Ok... here's the thing. I'm sitting here, in front of the computer, playing with this thing. It's big, huge even. Lots of people probably use it but don't have the guts to say so. Mine in blue and green, but it could possibly be just my preference. It's kinda lazy way of doing things, but I like it that way. No real human interaction, no clean up necessary.



What did you think it was???

To take a break from the clicking and the eye gouging, here's Tues Tag Along.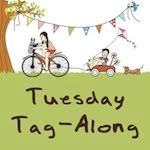 Don't forget to add the blogs to the stumble!