Welcome to Tuesday Tag Along, where I shamelessly put my name on a list with a group of bloggers hoping for someone to read this so I don't look like a crazy lady. Join, please, so others like me don't have to go into the loony bin.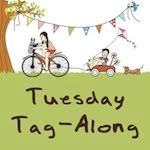 So my last few posts have been well... not as unique as they should be, way to emo as they ought to be and to far apart. I want to say I'm sorry for any lack of creativity that I've stripped from this place. I can promise that I will try and try again to drink more alcohol and get out of the *ddddduuuuhhhhhh* *gurgle* *gurgle* staring at my computer screen like it's a porn movie syndrome that I've been in.
Good thing, I just haven't been staring at this screen that long. If you look or remember the post where I said I'm to scared to ride muscle cars and muscle men. Weelll... let's take off one.
Friends and I went to a car show. A really perty car show and now Aaron and I are thinking of the future. Ya know, wedding bells and screaming babies and all that shit nice things. We got to talking about buying one of these beauties some day. In the long distant future, probably when dogs grow wings and my ass gets smaller.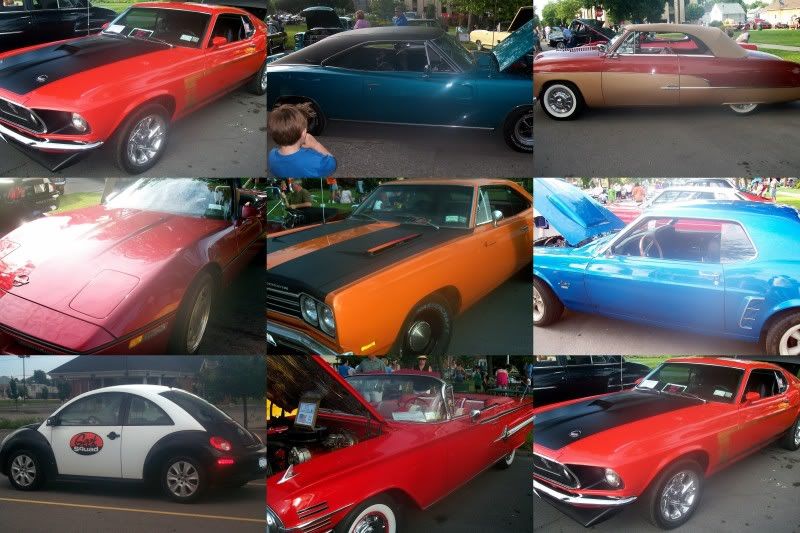 Please ignore the bug... well don't. That's my beauty. Whenever we see one on the road, we kinda get giddy and try to figure out with double agent is in one. There's only 4 in the tri-state area!!!
Darrell got excited over the Charger, obviously. His father is a Dukes of Hazzard addict. Full plaid shirts, running from the law, hound dog, daisy duke = don't sleep with your cousin thing. He was upset that it was blue instead of orange. But what can ya do? Not everyone wants to drag around a confederate flag on the top of their car.
It was nice, very nice actually, seeing old friends who know me best and who can understand my humor. Nos Bottle - 5. Katie - 2. Really, I can't put the freakin' cap on for the life of me. My friend Dan threatened to go get a sippy cup, I told him to leave that for the jack & coke. Seriously, don't waste a good thing man.
So sippy cup, sleeping cousins and hot cars aside. I'm back, sorta. I've always been here but I'm going to try harder at being myself instead of a drone.
Promise on my future cars life. Minus the small ass.