Why is it when you're a kid, you never want to sleep. Bed-time is the forbidden zone where you fight, scream, negotiate and wrangle your way out of it. But when you're an adult, sleep is a luxury. Especially after you had those said kids who will give their souls for an extra hour out of bed.
Of course, as an adult. We have additives in our lives that keep us awake. ie. Coffee, energy drinks, tea, cold showers, work, sex. So, ultimately, it's our own fault for not getting the correct amount of sleep that we need.
This philosophical point comes from...
My kid not wanting to go to bed.
A thousand and two kisses and hugs, asking if he can have 2 gallons of milk, juice, water, beer. Getting up, sitting down. Going to give the cat a kiss goodnight... oh wait, he forgot to give it a hug. Then back down. Then he forgot to give the fishie a hug and kiss... and oh wait, don't forget about Aaron. And then the juice, and then the questions.
Why is the walls white? Because they are Darrell, go to sleep. Why do we sleep? Because we need sleep to live Darrell. Why do we live? Because God gave us life Darrell, now go to sleep. Then the God questions.
Sometimes I wish I could duct tape him to a wall.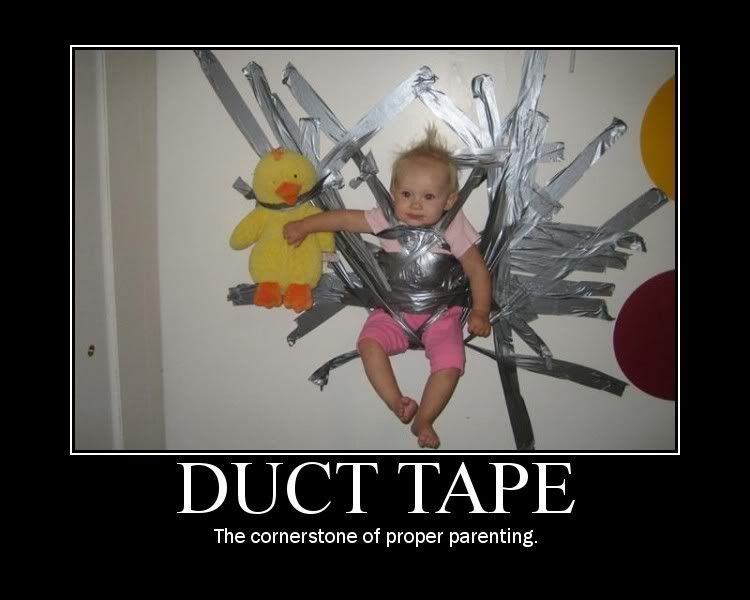 And then I remember that's illegal and unsafe.
Then I wonder why some people are allowed to breed.
See where my kid's questions come from?